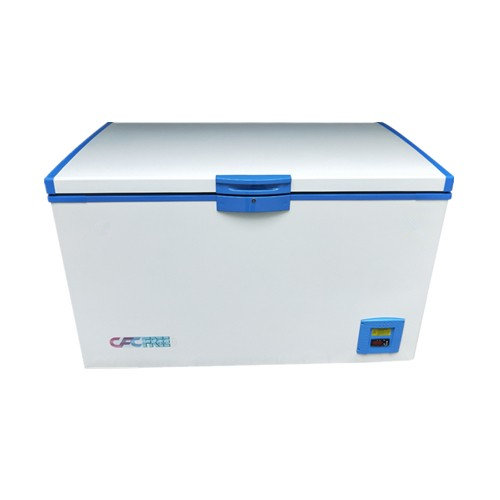 -45 °C low temperature chest freezer DW-45W468/668/1000 -40 DEG C freezer
Applications:
The freezer is used for fresh storage of tuna and other high-end sea food at low temperature at Japanese restaurants, deep sea fishing, home and hotels etc. used for low temperature test and storage of electronic and chemical materials; also used for freezing storage of biological materials, samples and specimens at laboratories in institutes & universities, biotech, pharmaceuticals, agriculture & animal husbandry.
Description
-45°C low temp freezer,-40 DEG C freezer
DW-45W468/668/1000
low temp freezer Features:
Unique ultra low temperature patent technology, superior performance (strong refrigeration, fast cooling and lower temperature), high efficiency and lower energy consumption;
Major components such as compressor, thermostat and fan motor are world famous brands, copper tube evaporator and SUS 304 stainless steel interior, reliable and durable, ensure safety of stored samples;
Digital temperature display, the temperature inside freezer is easy to see; High/low temperature and sensor fault alarms, to know abnormal conditions in time;
Double gaskets and thick foam insulation, good thermal insulation and energy saving;
Fit with casters, easy moving;
CFC free mixed refrigerants & foaming agent, green and environmentally friendly.
-40 DEG C freezer
 Technical data: 
Model
DW-45W468
DW-45W668
DW-45W1000
Type of cabinet
Horizontal
Horizontal
Horizontal
Capacity
468  liters
668  liters
1000  liters
Temperature range
-15°C to -45°C,

adjustable

-15°C to -45°C,

adjustable

-15°C to -45°C,

adjustable

Climate type
N
N
N
Power supply
220V/50Hz
220V/50Hz
220V/50Hz
Rated input
450W
550W
600W
Protective class
I/B
I/B
I/B
Unit dimension
1400*800*850mm
1850*800*850mm
2000*1000*850mm
Inner dimension
1224*620*667mm
1674*620*667mm
1830*830*667mm
Net weight
100 kg
115 kg
160 kg
Ligfreezer Low-Temp Equipment Co., Ltd is a company which is specialized in  kinds of Ultra Low Temperature Freezer,cold rooms,such as vegetable and fruits cold room,meat and fish cold room,flower cold room,ice cream cold room,medicine cold room,etc. We can help to do design,manufacture and installation for our customer.
We manufacture -45℃ -65℃ -85℃ Ultra Low Temperature Freezer, polyurethane sandwich insulation panel,cold room door,air cooler.We used Copeland and Bitzer refrigeration unit. We make low temperature,mid temperature?cold storage and blast freezer cold storage which is apply to hotel,market,food processing,slaughter house,etc.
Our factory has been in this industry for more than 8 years.But our workers,engineers have been in this field more than 20 years. We sell both at local and abroad. We sell to Asia,Africa,Europe and North America.
freezer
Low Temperature Freezer
-45℃ freezer
-60℃ freezer
-80℃ freezer
deep freezer
ultra low temperature freezer
cold room
Physiotherapy equipment
Walking Rehabilitation
Upper limb rehabilitation
Lower limb rehabilitation
Whole body rehabilitation
Children rehabilitation
Finger rehabilitation
CPM series
Treatment table series
Lumbar and neck traction bed
Medical mask
PDH Multiplexer
SDH Multiplexer
E1 Converter
TDM over IP
Modem
PCM Multiplexer
Fiber Media Converter
Fiber Video Converter
fiber module
SFP fiber module
SFP+ fiber module
40G 100G module
PCM multiplexer
fiber Module
SFP+ fiber module
40G module
100G transceiver
fiber to ethernet converter
E3 DS3 to ethernet converter
fiber optical modem
TDM over IP
G.SHDSL modem