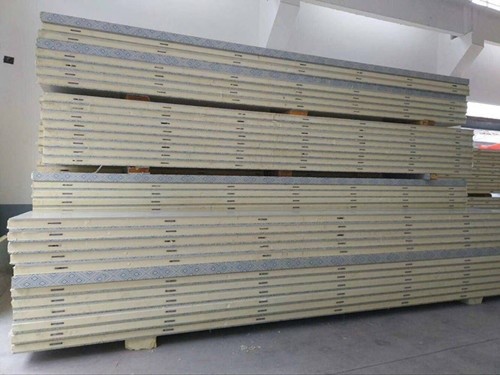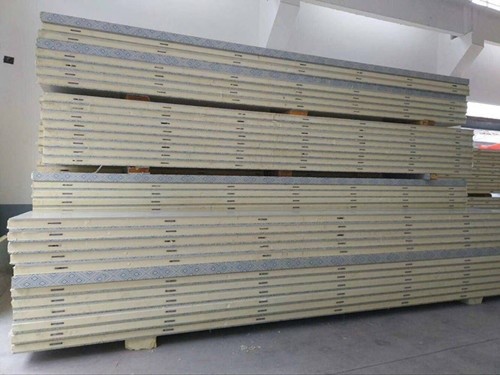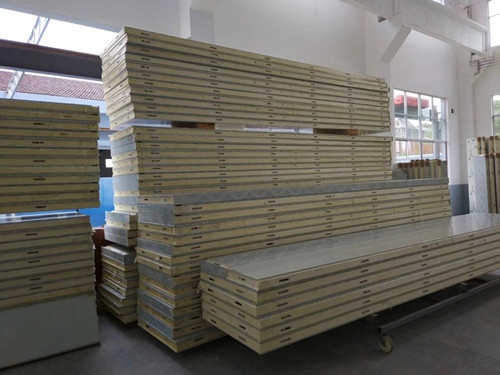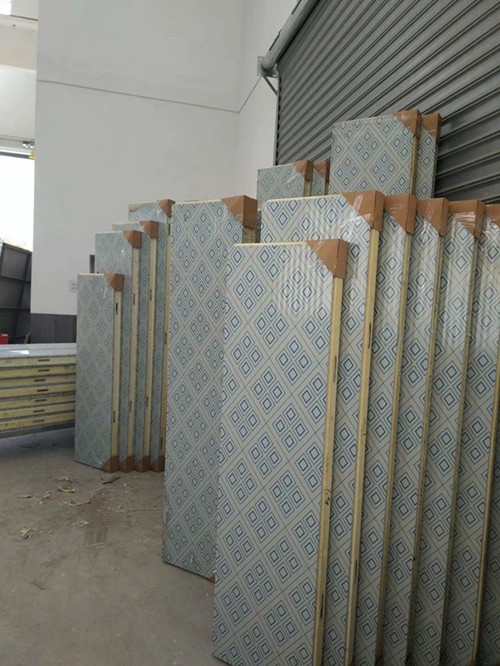 Colour steel sheet PU pannel
Cold Storage Panel is fit for the projects which have serious require of keeping warm. Cold Storage Panel are made by upper and lower layers pre-painted galvanized steel sheets or stainless steel, to the middle infused polyurethane foam, through the heating, pressure, and the formation of foam sandwich panels. The metal top layer can be a colored stencil plate, the surface is smooth and the whole performance is excellent.
Cold Storage Panel is universally acknowledged the best material of heat insulation and heat preservation nowadays and it can perform a good anticorrosion, antirust and anti-weathering.
Description
PU PANEL:
PU Sandwich panel is composed by insulation PU panel and two layers steel sheet cover .
The steel sheet cover can be made with colour steel , stainless steel and embossed aluminum, or other material sheets.
1.  Colour Steel sheet cover:
Colour steel cover:0.3mm/0.4mm/0.5mm
2. Insulation PU panel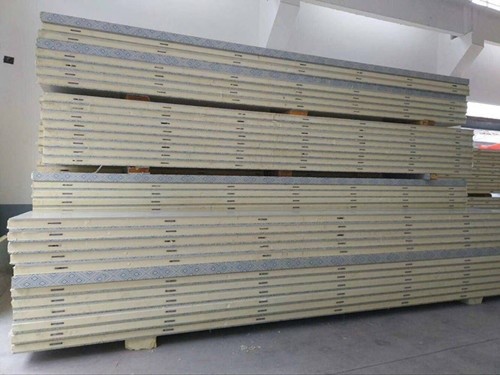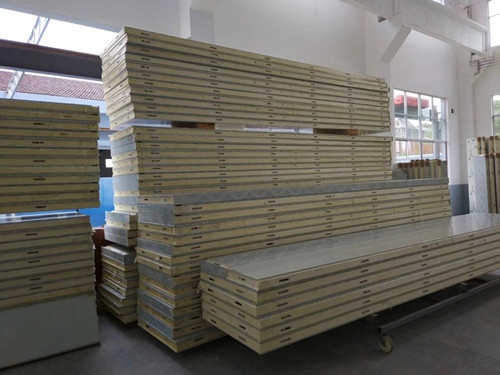 Cold Room Pu Panel Details: 
1. Our Pu Panel Standard width is 960mm , the length can be customized according to your requirements .
2. PU panel is B2 fire proof grade, safe situation.
3.  cam lock connection pu panel , very easy to install, anti-corrosion effect is very good.
4. 40-42 kg/m3 density PU foam, the insulation effect is good . In other words , can save your electricity cost .
5. CFC-free raw material , environmental friendly.
After placing order ,our designer will design an exact drawing for your cold room , you can install it easily .
Features and advantages:
1.Convex structure: Panels are joined together by means of tongue and groove and locked together by cam- lock on each side of the panel to ensure air tight joints. There's no need of rivets, thus reduce the cost and save the time.
2.Easier and faster installation,can be expended or removed in the future.
3.Perfect heat insulation: High density thermo insulated PUR foam up to 38kg/m³or above for perfect cold-room heat insulation efficiency.
4.Various surface steel choices: Color steel sheet/Stainless steel sheet/ Embossed aluminum sheet,The standard metal sheets are all smooth. Standard color of steel sheet is white-gray, others are natural metallic.
5.Low flammable: Low flammable PUR foam is used in the cold room panel, with fire retardant B2 grade.
6.Highly hermetical: Silica gel are used on the panel edge of the joint parts of each sandwich panel to ensure perfect sealing to avoid the cooling air leakage from the cool room or moisture inside the PU insulated panel for the best refrigeration and frozen storage result.
7.Load bearing: The compressive strength is150kpa above, people can walk on the floor panels and allow trolleys can go in and out.
| | |
| --- | --- |
| Brand | LIGFROZEN |
| Thickness of panel | 50mm,75mm,100mm,120mm,150mm,200mm |
| Material of PU panel | CFC FREE panel |
| Width | 960mm/1000mm |
| Length | 2900mm or 11800mm |
| Density | 43 ±2 kg/m³ |
| Compressing strength(10%deformation) | ≥ 160Kpa |
| Bending Strength | ≥ 245Kpa |
| Absorbing rate | ≤ 4 |
| Heating coefficient | 0.024W/mk |
| Fireproofing grade | B2 |
Volume Classification Table:
Classification of cold room
Small
Middle
Large
Volume Range
 <500m³
500~10000m³
>10000m³
3. Application:
PU panel can be use for all kinds of cold room.such as meat and fish cold room,fruits and vegetables cold room,flower cold room,ice cream cold room,etc.Mainly apply for hotels,restaurant, hospitals and blood bank, poultry slaughter, aquaculture and mushroom cultivation.Pharmaceutical processing and logistics cold storage room, beverage production and processing storage,large-scale logistics Storage, injection molding, machine cooling, chemical product cooling, leather manufacturing.
4. Production:
5. Loading:
freezer
Low Temperature Freezer
-45℃ freezer
-60℃ freezer
-80℃ freezer
deep freezer
ultra low temperature freezer
cold room
Physiotherapy equipment
Walking Rehabilitation
Upper limb rehabilitation
Lower limb rehabilitation
Whole body rehabilitation
Children rehabilitation
Finger rehabilitation
CPM series
Treatment table series
Lumbar and neck traction bed
Medical mask
PDH Multiplexer
SDH Multiplexer
E1 Converter
TDM over IP
Modem
PCM Multiplexer
Fiber Media Converter
Fiber Video Converter
fiber module
SFP fiber module
SFP+ fiber module
40G 100G module
PCM multiplexer
fiber Module
SFP+ fiber module
40G module
100G transceiver
fiber to ethernet converter
E3 DS3 to ethernet converter
fiber optical modem
TDM over IP
G.SHDSL modem