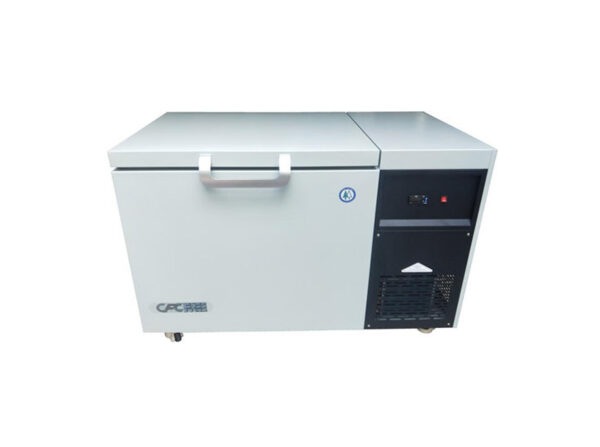 -105 DEG C Freezer 200 Litres Chest Cryogenic Freezer
Description
-105 DEG C Freezer 200 Litres Chest Cryogenic Freezer
Applications
The laboratory ultra low temperature freezer is used for freezing storage of biological specimens, samples, materials and reagents at ultra low temperature at institutes, universities and laboratories related to research in the fields of life science,biological engineering, agriculture and animal husbandry; also used for low temperature tests and cold treatment of chemical materials, electronic components, metal parts and special materials in Industries of Chemical,Electronics, Mechanical Manufacturing, Shipbuilding, War Industry, Aeronautics & Astronautics etc..
Features
1. Patented technology of autocascade ULT refrigeration, strong cooling, quick freezing and low power consumption;
2. Major components are world famous brands, copper tube evaporator, stainless steel interior, hi/low temperature alarm (other alarms are also available as per buyer's requirement), ensure reliable operation and safety of stored samples and materials;
3. Dixell electronic controller from Italy, digital temperature display, more accurately control, easy operation;
4. Casters with brake, easy moving;
5. CFC free mixed refrigerants & foaming agent, green and environmentally friendly.
| | | | | |
| --- | --- | --- | --- | --- |
| Model | | DW-105W105 | DW-105W200 | DW-105W300 |
| Type | | Horizontal | Horizontal | Horizontal |
| Capcity | | 105 L | 200L | 300L |
| Inside temperature | | -60°C to -105°C, adjustable | -60°C to -105°C, adjustable | -60°C to -105°C, adjustable |
| Climate class | | N | N | N |
| Power supply | | 220V/50Hz, 110V/60Hz | 220V/50Hz, 110V/60Hz | 220V/50Hz, 110V/60Hz |
| Rated input | | 650W | 850W | 900W |
| Power consumption | | 8.8 kw.h/24h | 11.8 kw.h/24h | 12.8 kw.h/24h |
| Protective class | | I/B | I/B | I/B |
| Cooling system | | Single stage refrigeration system | Single stage refrigeration system | Single stage refrigeration system |
| Compressor | | SECOP | SECOP | SECOP |
| Evaporator | | Copper tube | Copper tube | Copper tube |
| Condenser | | Fan cooling fin type | Fan cooling fin type | Fan cooling fin type |
| Condenser fan motor | | EBM | EBM | EBM |
| Refrigerant | | Mixed CFC refrigerants | Mixed CFC refrigerants | Mixed CFC refrigerants |
| Sensor | | PT1000 | PT1000 | PT1000 |
| Controller | | Dixell, Electronic  from Italy | Dixell, Electronic  from Italy | Dixell, Electronic  from Italy |
| Temperature display | | Digital display | Digital display | Digital display |
| Alarm | | Audible/visible | Audible/visible | Audible/visible |
| Exterior | | Powder coated steel | Powder coated steel | Powder coated steel |
| Interior | | Stainless steel | Stainless steel | Stainless steel |
| Thickness of insulation | | 150mm | 125mm | 125mm |
| Door | | Top open single foamed door | Top open single foamed door | Top open single foamed door |
| Door handle & lock | | Aluminum handle | Aluminum handle | Aluminum handle |
| Unit dimension | | 1140*860*930mm | 1390*860*930mm | 1690*860*930mm |
| Interior dimension | | 410*460*550mm | 710*510*560mm | 1010*510*580mm |
| Packing dimension | | 1210*880*1120mm | 1460*880*1120mm | 1760*880*1120mm |
| Net/gross weight | | 110/153kg | 130/174kg | 155/205kg |
Freezer
Low Temperature Freezer
-45℃ freezer
-60℃ freezer
-80℃ freezer
deep freezer
ultra low temperature freezer
cold room
Speed Reducer
Rehabilitation Equipment
Fiber Optical Multiplexer
Telecom Equipment